*Follow me on Instagram, Twitter or Facebook*
Hello everyone!
Can you believe that 2021 is almost over? It somehow went past quickly but also quite slowly – an alternate reality of sorts. But here we are, ready to cautiously greet 2022 – in comfy but cute attire.
Like my SuperM poster? 😀 I decided to keep it there with my tree.
This year has really be about comfort. With so many working from home – more cozy styles became popular and even pants took a dive in sale due to Zoom calls only showing our top part!
So for my few holiday looks I wanted to still do some glam mixed with stylish comfort.
For my first look I choose one of my favorite knit cardigans. The small shimmer circle details add a touch of glam that's perfect for a festive look.
I then just added a cream sheer printed skirt that I've had my eyes on for a while. It easily goes over any outfits which makes it versatile wardrobe piece. For the base a simple black and shorts along with sleek pointy toe booties. All items are Forever21 (only because I worked there for some years so I've amassed quite a stockpile of item. :D)
To keep is 2021 low key glam I just added a simple pearl and gold necklace.
For the second glam look I kept the same shirt, grabbed a fun sequin circle skirt and added an trendy Thrift plaid suit jacket. For accessories, a large gold ring, cute gold frames and an amazing Lego Hello Kitty brooch I bought over 10 years ago at a boutique in Kansas City. You gotta add in a little quirkiness sometimes.
Glitter skirt (similar) – F21 /
Hello Kitty Lego broach – Local
boutique
Makeup
Lips Untainted Spice – Maybelline
Next up is a street wear look with one of my favorite band tees paired with a shimmer dress.
Makeup
Eyes Profusion – Classics / Lips Red Revival – Maybelline
And of course what's the holiday's without an Ugly Christmas Sweater! This "Who Needs Santa When I Have Grandma' sweatshirt I found buried in my grandmothers Christmas decorations in the basement. 😀
Last but not least I did some photos for my Etsy shop in my new Ugly Christmas Sweater Face Mask Collection. You can get them here
SweetxAestheticShop
.
I hope you all have a safe and positive holiday season!
What festive wear are you wearing this holiday season?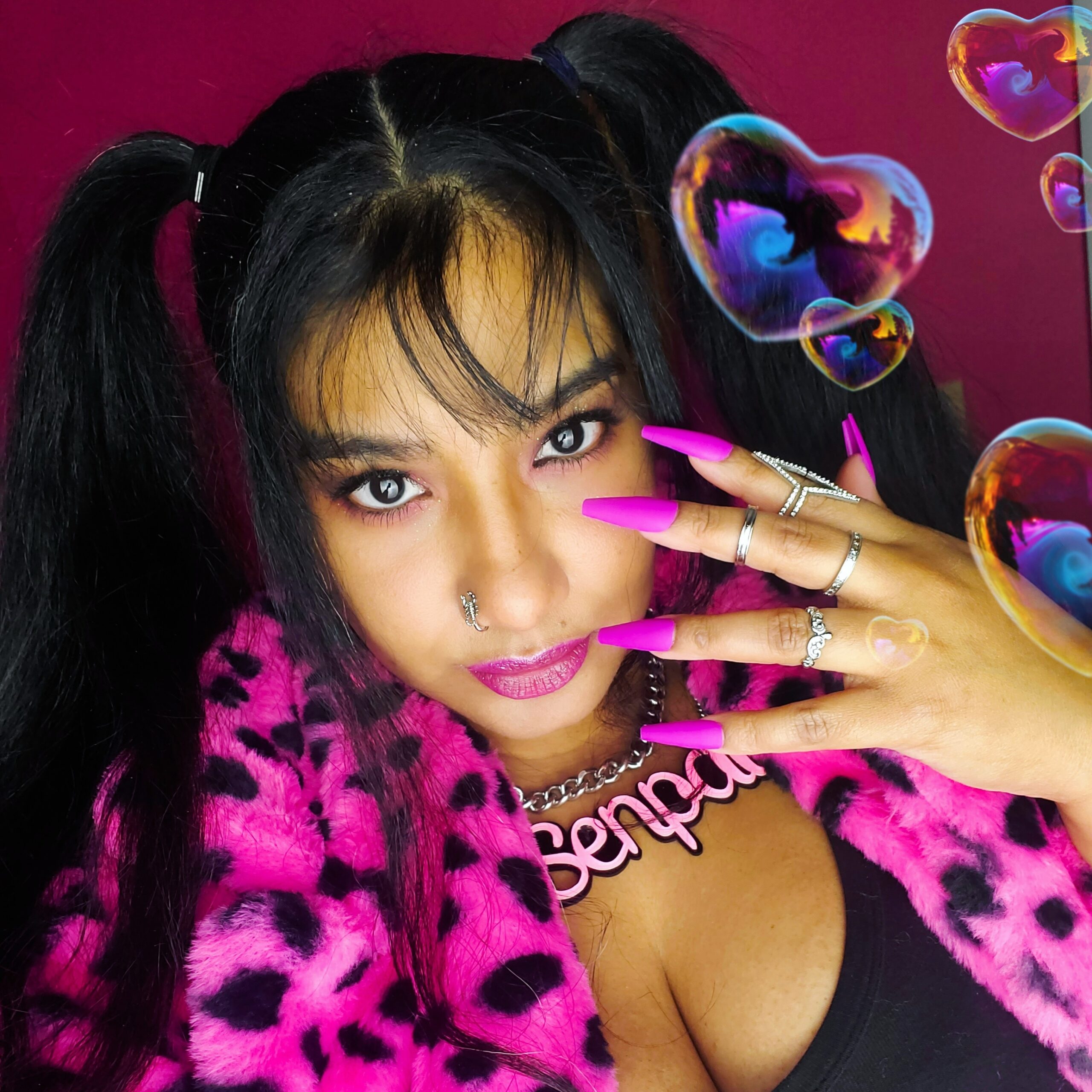 April Jay is a style and travel content creator who loves sewing, Buffy The Vampire Slayer and rocking out to One OK Rock.
Follow her on Twitter