*Follow me on Instagram, Twitter or Facebook*
Original post: 12/11/20 Updated: 12/18/21

One of the best activities during the holidays is to DIY projects with your family. It's especially good now that so many of us are under quarantine or self distancing this year. So why not add a bit of uniqueness to it by adding in Kpop!
You can make fun Kpop Christmas ornaments and decorations with just photo cards (that come with the physical albums) and Xmas decor from any store. I made 9 ornaments for $25. That's just $2.77 for each ornament! A dollar store will be the best place to grab everything on your list. 😉
Items you'll need
Kpop photocards or printed pictures
Cut out pop up stand of idol (or print one)
clear plastic ornaments
various colored garland
bows
a stocking
tulle
stickers
felt decorations
pom poms
small filler foam balls
string lights
an LED candle light
wired wreath
fuzzy fur
markers
scissors
tape
hot glue gun
1. SuperM Christmas Cards
SuperM is one of my absolute favorite groups so I was really excited to make these ornaments. Since I'm really protective of the photocards I have of them I made sure to only use small pieces of tape when adding the details. To make this DIY super easy I just used the handy photo card holder that came with albums I purchased for the actual card part. Another option would be to use a medium sized photo and tape it onto an actual Christmas card.
Things you need:
Large photocards
photo card holder that came with physical album/ or a Christmas card
bows
paper
stickers
pen/markers
1.Tape photo card to front of photo card holder
2. Cut out a small triangle piece out of paper (any color) for corner of card
3. Write slogan for on triangle paper and tape to corner
4. Add stickers and bows to decoratekd
2. Ateez Snow Globe
If you're an Atiny like me you'll love this Ateez Snowglobe.
List
small photo card
clear plastic ornament
white filler balls
green garland
ribbon
scissors
hot glue gun with glitter glue stick
1. With glue gun, draw various designs outside of ornament. Let dry.
2. Cut three 3in (8cm) garland strips and place in plastic ornament
3. Insert photo card and place against the side of ornament
4. Pour white filler balls inside and close lid
5. Cut ribbon and tie to hang
3. Yunho Santa
large photocard
colored felt
pom poms
black fuzzy fur
colorful string
glue
scissors
1. Cut out the head or body of the photo card
2. Make fuzzy fur into the shape of a beard and glue onto face of photo
3. Cut out a triangular shape on red felt and glue on head of card
4. Cut white felt strip for hat band and glue to bottom of red felt hat
5. Add pom pom on end
6. Make a small hole with scissors and push through hole. Tie the string to hang.
4. Light Up Kpop Ornament
List
Clear plastic ornament
String lights
Tulle
Large ribbon
Paper
Pens/markers
Tape
1. Wrap tulle around string lights and insert
2. Grap paper and write names of your favorite kpop groups. Cut out in any shape
3. Insert names around ornament and tulle
4. Tape string light batter pack to pack of ornament or if space allows the inside in the back
5. Add large bow on top and use to hang
5. Junsu Candle Light
Now this Junsu cut out stand is a throwback! It was a gift with purchase at Tony Moly when JYJ were the brand ambassadors way back in 2013! 😀
List
Full body cut out of idol
Candle light
Bows
Stickers
1. Tape full body photo or cut out onto candle stick
2. Add stickers
3. Tie bow around bottom
6. Haechan Peekaboo Elves Stocking
I purchased this Haechan photo from a fan at their concert in Chicago last year.
List
large stocking
photo card
felt decorations and other kinds of your choice (fun elves etc)
garland
glue
tape
scissors
* Note – for this DIY I kept the cardboard inside the stocking to make it sturdy to apply decorations.
1. Grab garland and wrap around photo in a circle. Keep wrapping until all sides are covered and a circle opening is made then tape to photo.
2. Tape/glue garland wrapped photo to stocking
3. Glue various felt decorations to stocking
4. Glue elves on top and on side of stocking like shown
7. Taemin Candy Cane Wreath
Taemin is my ultimate bias (top 3 are Miyavi, Taemin and Rain) so I wanted to make sure that whichever ornaments I made using his photocards made the least amount of damage to the card. So these last two ornaments used just a tiny bit of tape to preserve my precious Taemin cards. Both came out very nice!
List
wired wreath
3 photo cards
4 colors of garland including 1 green
1. Gently weave green garland through outer wires of the wreath.
2. Grab one color of decorative garland and wrap around the entire wreath covering the wires and outside green garland. Wrap 1/3 up wreath.
3. With second decorative garland, repeat step 2.
4. With third decorative garland repeat step 2.
5. Add a small amount of take to back of photo cards and place throughout wreath.
8. SuperM Star Ornament
List
star ornament
1 photo card
tape
1. Take photo card to front of star ornament
2. Hang and you're done!
Hope you enjoyed the DIY!
Have you made DIY ornaments before?
Let me know in the comments!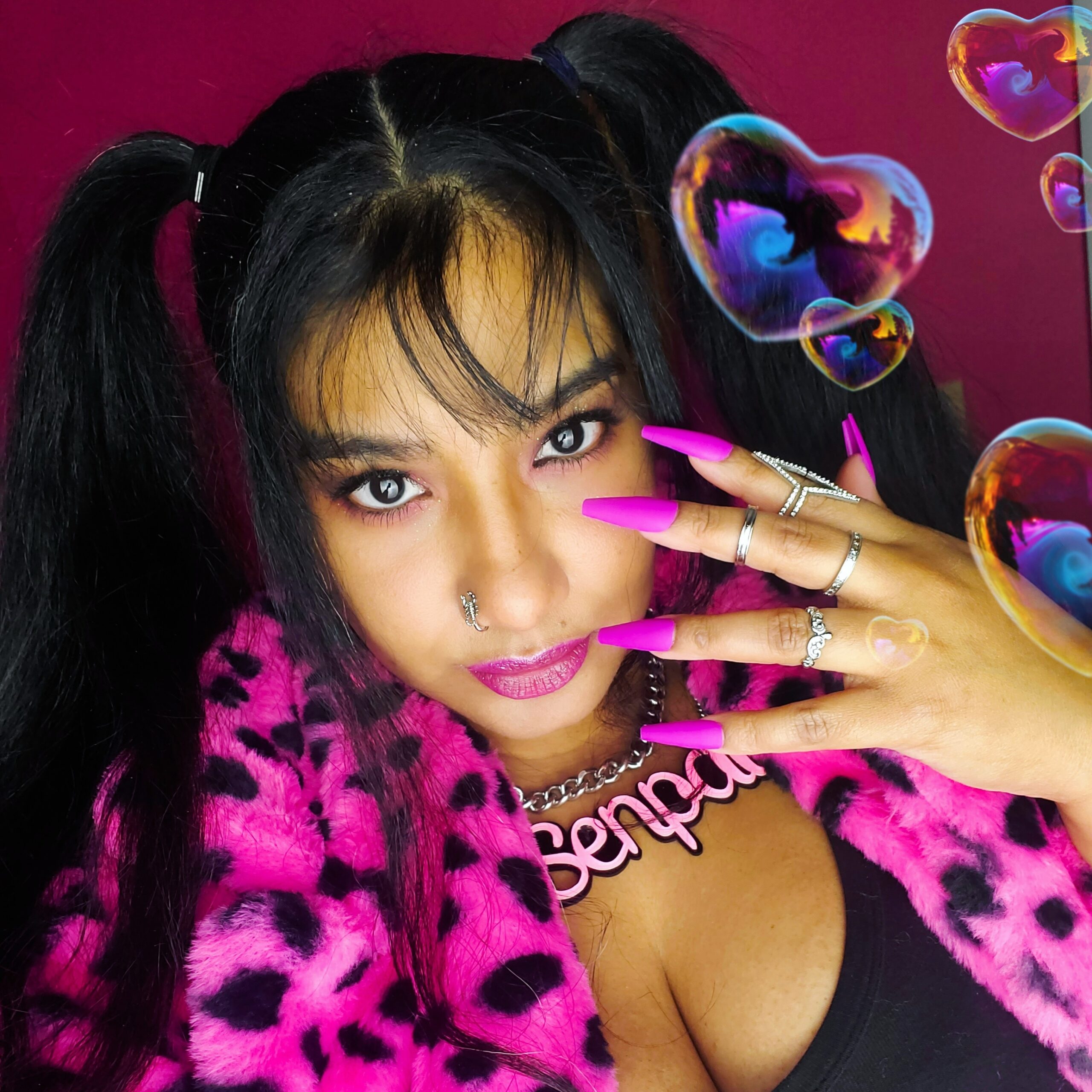 April Jay is a style and travel content creator who loves sewing, Buffy The Vampire Slayer and rocking out to One OK Rock.
Follow her on Twitter