Ever since moving to Asia I have fell in love with nail art. There's just so much varity and things you can buy to make your nails look awesome. Nowadays it's rare to see me without my nails done up. I usually share them on twitter but I thought why not post about it! Nail art is fashion and is an expression of ourselves. Also forgot to mention that I do my own nails! I guess you can call me a Lil' Park Bom! Haha. Now it's very cheap to get your nails done in at a shop in Korea, I've seen them for as little as $4 up to $20 (and $20 is crazy expensive in Korea.) Here I will show you some of my favorite polishes and nail accessories. One thing I hate is that I didn't get to show you all my 2NE1 "I Love you" video inspired nails I did for the 2NE1 New Evolution concert a few months back! I meant to blog about them but my computer soon crashed and my pictures were lost BUT I can just redo them because they were SO cute.
My current Nails I named "In Living Color" (like the 90's show with the Wayen's Bros.) These nails remind me of the 90's so much. The polish is from Korean face & skin store Aritum for 3,500 Won ($3.10.)
These nails I named "Watermelon" because they reminded me of a hot summer day outside chillilng with the family slurping on melon. I used two neon colors I found for 1,000 Won in a shop in Myeongdong. The green confetti I found in a shop in Express Bus Terminal Subway.
These babies I named "Sparklerama" which is pretty self explanitory. The blue color is such an amazing and vibrant polish. These nails I actually transitioned to after the pink and blue nails under this photo. Both glitter polishes are from Korean face & skin shop Skin Food for 1,000 Won ($0.95.)
These were actually my first creation. I bought all the nail accessories at the Daiso store in Harajuku located on Takeshita Dori. Tokyo has the most EPIC nail accessores EVER. I also ATTEMPTED to get my nails done in Shibuya at Shibuya 109 but it was 7,000 Yen ($100!!!!!!!) JUST to get them painted. I said "UH NO THANKS!"
The rhinestones and flower were 330 Yen (I think about $1) in Japan while the Hello Kitty stickers I bought at Family Mart (now named CU) for 1,000 Won. The pink and blue polishes are available at Skin Food for about 1,500 Won ($1.20.)
The nail pens below I ran across at the Dara and Shinee sponsored Etude House for buy 1 get 1 free! (1,000 Won each) I love using these pens because it allows me to create whatever comes to mind with out getting messing using polish. Only negative is sometimes the paint will come out to much from the pin tip and make my design mess up. Ah!
<<<<<–
Buy 1 get 1 free!!
Hope you all enjoyed my artistic nails! More pictures of my crazy creations next week! 😉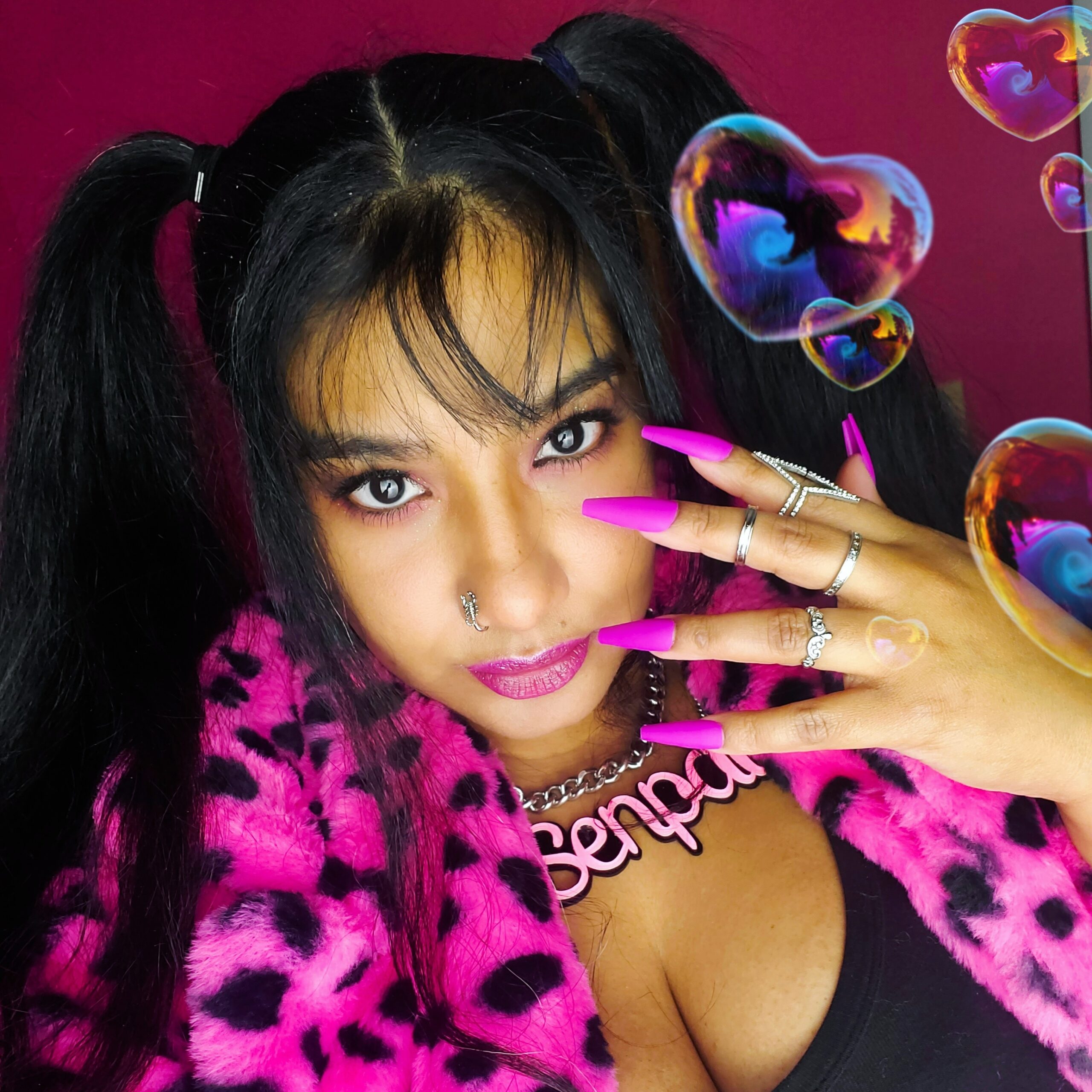 April Jay is a style and travel content creator who loves sewing, Buffy The Vampire Slayer and rocking out to One OK Rock.
Follow her on Twitter