I've been dreaming about going to the Vampire Cafe in Ginza, Tokyo for years so as soon as I booked my flight I reserved my spot for Nov 9th (my birthday) and it did not disappoint.
I was greeted by a spooky entrance where a sign alerted me to ring the bell to be served. Thankfully they easily found my reservation despite the horrid Japan Kart people making me late for it because my go kart ran out of gas in the middle of the street! More on that later. But I was about in tears thinking I'd miss the ONE place I was most eager to visit while here.
I was shown to my seat behind a velvet curtain and given a food and drink menu with a confirmation of the full course I had reserved. I decided on the Calpico Milk Peach Juice that allowed you to pour a blood colored juice into. From there the meals started almost immediately with dish after dish appearing on my table faster than I could eat them.
First up was a cream cheese and salmon hors d'oeuvres on a piece of dyed bread. Quickly following was the famous envelope cheese pizza, a salmon avocado salad that included a spoken ritual while pouring the dressing and a Death pasta with squid ink.
Easily make a reservation here!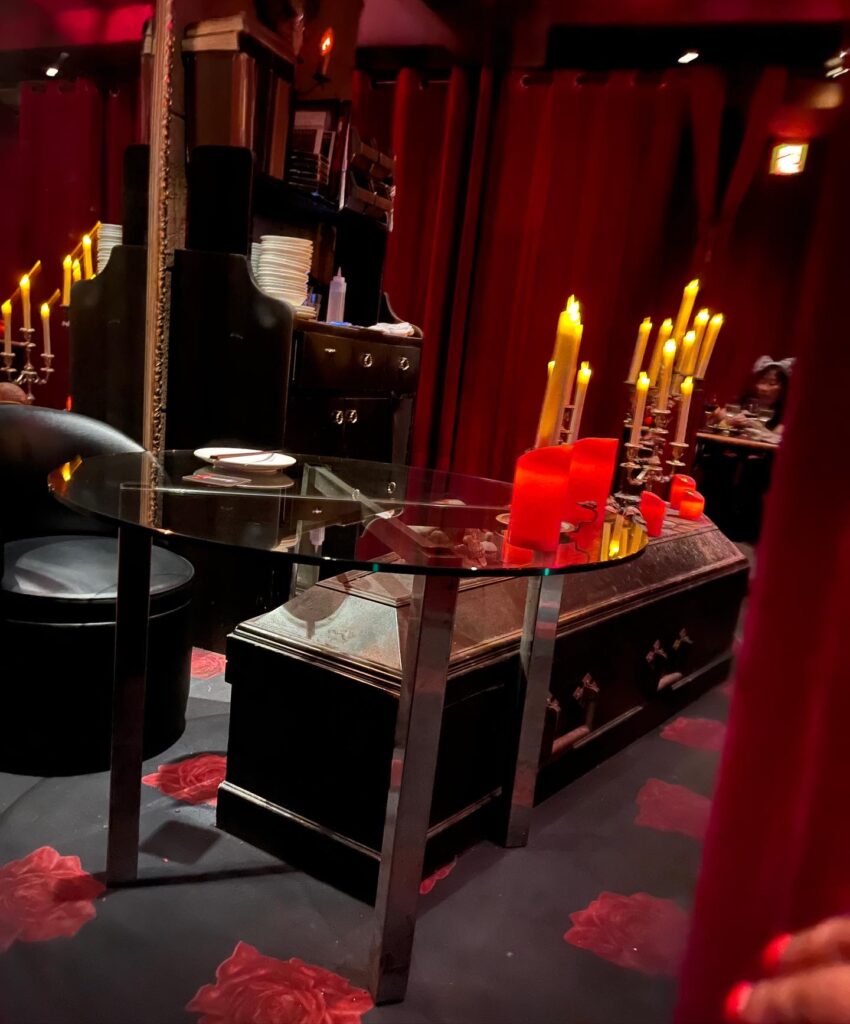 After the wonderful, attentive service I then sat for a good 25 mins wondering if they forgot about me because it had suddenly got busy. I also shyly kept peaking at the main vampire guy who was in the first YouTube video I saw of the place. He had done his dramatic spiel explaining the menu to everyone and shoving it in their face but I sat there sad that I didn't get a chance to interact with him.
From there my sadness quickly swept away as a chicken that would be my main course was elegantly set on fire. For this to be a themed restaurant, the food was GOOD. Quite delicious and worth every penny.
A bit of time later after I was done, my curtain was swept open by the waiter who had a cross shaped cake reading Happy Birthday April on it. I truly felt like Harry Potter. Lol. He then took a photo of me with it and I blew out the candles quickly out of embarrassment that attention was put on me.
If you'd like to check out this and other themed restaurants in Japan, save my Cool Girl City Travel Themed Cafe Google Maps for your next trip!
Now during my entire time in Japan I could barely eat anything sweet, probably because I was dehydrated and tired of walking 20,000 steps a day but THIS cake I was able to almost finish. It was basically a Swiss roll cake so it wasn't too sweet. Eating a cross shaped birthday cake beside a coffin in Tokyo. I'm living the dream. <3.
After finishing the wonderful cake and taking in that I checked off one of the top places on my bucket list, I grabbed my belongings and headed to the door. As I walked to the door, Mr. Head Vampire started following me out! He probably noticed that he didn't get any interaction with me and I was shyly acting like a fan girl. 😀
As I stopped at the goth decorated elevator I turned to Mr. Head Vampire with a smile on my face as he was stared at me with hands behind his back, swaying back and forth and second guessed if I should ask him for a photo. I ended up asking him and his response was that it would cost 500 yen (basically $5 or like $3.50 with the exchange rate.) I pondered for a moment and pointed to my head that I'd think about.
As the elevator alerted me to its imminent approach, I grabbed my bag that was in a chair and as I swung my hair around to wave Mr. Head Vampire goodbye, HE WAS GONE! Just like a true VAMPIRE!
I had to laugh at his exit because he truly did the definition of ghosting but I almost couldn't stop smiling as he had given me the fan service I had so desperately wanted.
Though Japan Kart almost effed up my birthday night, The Vampire Cafe saved it. After leaving this I met with an online friend named Farrah who was a reader of my Pink Fashion Ninja blog back in the day. She and I had an AMAZINGLY fun time at a Macho Bar and Karaoke. She saved my birthday as well and it was definitely one of the best I ever had.
Last year I checked off Egypt as a birthday destination and this year was able to visit Japan again after 8 years. What will next year bring?
Have you been to a themed cafe before? Would you try the Vampire Cafe?
Let me know in the comments!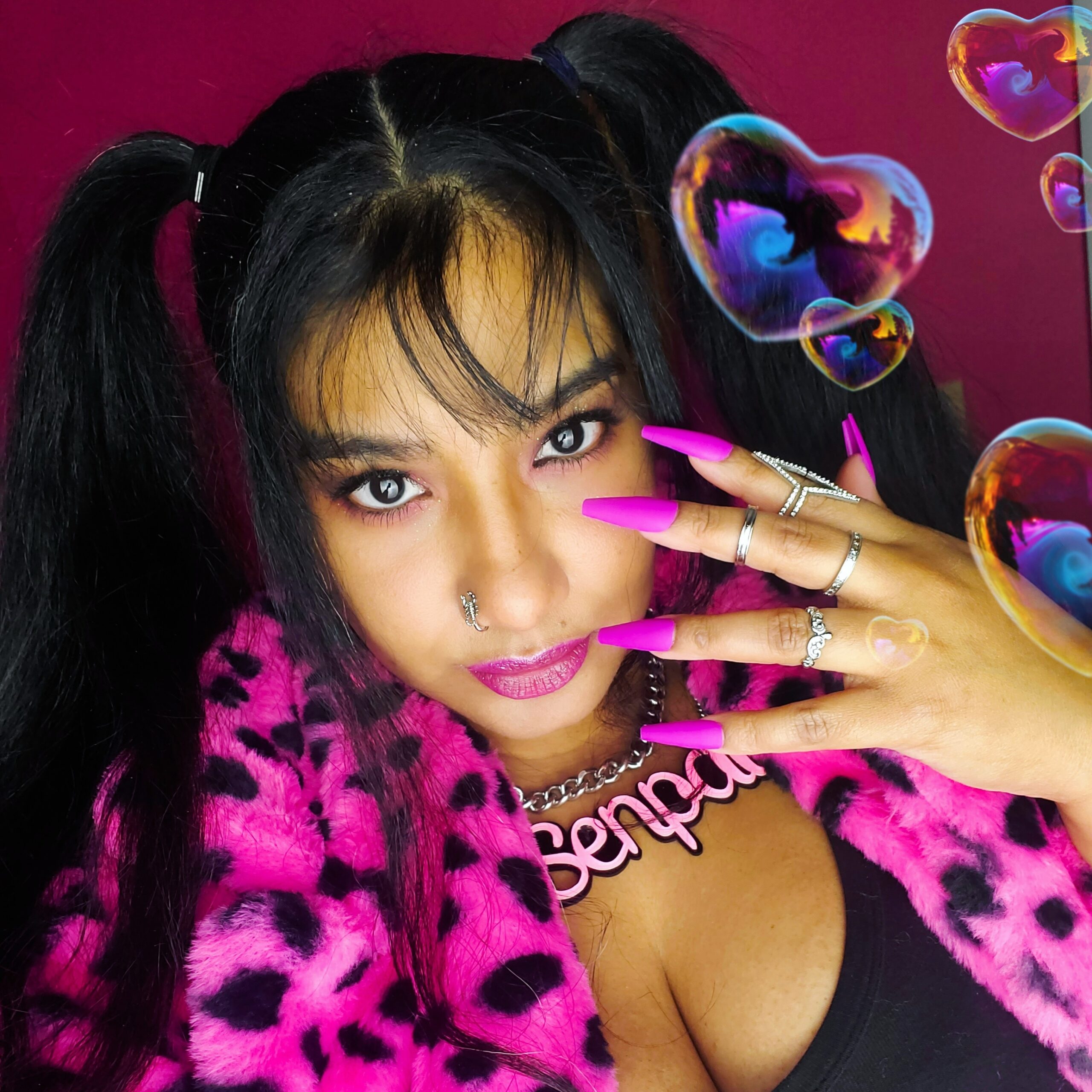 April Jay is a style and travel content creator who loves sewing, Buffy The Vampire Slayer and rocking out to One OK Rock.
Follow her on Twitter