Hey guys!
How have you been? I hope the opening summer days have treated you well. The summer in Korea right now is treacherous! (But it's not even summer yet is it? Oh geesh.)
Well I feel it"s time for another What's up Korea post where I update you all on everything that's been going on with my life. I don't blog (write posts) as much about my life like I used to when I first got to Korea 2 years ago. I felt I was blogging too much about my life and not enough about what I started this blog for: fashion and music. This blog is my career portfolio so I must treat it as such. BUT that doesn't mean I don't share my life anymore! My Youtube Vlogs are my main source for sharing my adventures which is better anyway because I'm so animated (and people seem to really love my rants. Lol. ) And Youtube is the 2nd most used search engine in the world so that would be the better place to share it anyway right? 😀 Cool, well let's start!
So I've started the (mini) life of a Kpop trainee! I started doing dance classes last month and I really love it. At first I was skeptical because I wanted to do it to work out and I didn't think I could dance that good. Also our instructor is this really young guy who in my honest opinion can't really teach. It's like, dancing comes natural to him so he'll be like "1, 2, 3, uh uh, flip, (some Korean words I don't understand) back, punch, uh, ah, hey, an ne yah! Ok, you got it? Now go!" I stand there rolling my eyes at him like seriously dude, did you just show us that quick and fast and expect us to just grasp it as easily as you do? I know it really has to do with him being so young. Because when I was young(er) I would just rush through things. Now that I'm a bit older (only 24!) I take the time to do things and understand that when I'm teaching someone they might not grasp the concept the same as me. But for some reason he's seemed to have gotten better and makes us repeat the moves over and over again until he feels we've got it.
Check them out dancing to BIGBANG's Fantastic Baby
In May we learned Shinee's "Why So Serious" and now for June we're doing EXO's "Wolf" which I like a lot more than WSS. I never would have thought I could correctly dance the moves to a freaking EXO song. Their stuff is so theatrical and difficult which makes it intimidating. I feel the "Wolf" dance is kind of sexy and as a female I can create a feminine flow to the moves compared to Shinee's WSS.
On another note, dancing has made me realized how much I lacked confidence. I would stand there and could barely look at myself in the mirror, not sure why, probably being overly self conscience. (Especially being in Korea.) After a month I know feel my confidence level has risen. I can look at myself in the mirror and have confidence. It probably grew from me having to dance infront of so many people while in dance class.
Whew…I haven't even got to the vocal lessons yet. 😀 So I started vocal just last week. It's once a week while dance is twice a week. I start at 6pm and then dance starts at 7:30 (it ends at 9:30.) (I run to the subway right after work since the place is in Gangnam which is an hour away.) The class consists of me and two 18 year old girls. One girls English is pretty good and the teacher can conversate pretty well. They had me go in front and chose a song to sing on the spot. I was SO NERVOUS I couldn't believe it! It was like I was standing on a stage in front of millions! I chose to sing Rain's "Love Story" because I know all the words (sigh..but I'm beginning to forget some of it.) They really liked it but my teacher said I need to work on my confidence and not being so shy. ME? SHY? HA! Ya'll know I'm out going as ever but swear when it comes to showing my talents I go into a shell like a turtle. Internally I know I can sing really well but when it's time to show it my voice shakes, hands shake and feel I'm about to die. Lol.
So after an hour of cooling off and hearing the other girls sing, the teacher had me chose another one to belt out. I chose Alicia Key's "If I aint got you" (I know typical right?) But my mind blanked out and I really couldn't think of anything else to sing. So as I sang the song (that I've sang many times before) with my hands crossed in front of me, I started to cry. I teared up. I really can't pinpoint the "why" but I knew it was a mixture of nerves and me connecting with the song. Afterwards she told me it was anxiety but really I knew it was because I love singing so much and that all my emotions come out when I do sing. Also I tear up at little things (like Kung Fu Panda's mama dying. I'm not a cry baby though, I've got some super thick skin.) So my teacher then told me I should work on hand movements because it helps convey the song. Sigh…I knew this but I was so shy I went into my turtle shell!! The other students admired how I could match my voice so well with the original singers and from there we had to choose two songs to sing for next week. They suggested I sing 2NE1's hit ballad "Lonely" which I was excited for because it's such a great song. Second I was juggling between Mariah Carey's "We Belong Together" and another until one of the girls suggested Tamia's song "Officially Missing You." For some reason Korean's LOVE that song. Two Korean singers recently did a duet remake of the song so I think that spiked interest in the original. After she said that a light bulb went off I knew what I wanted to sing. Tamia's "Stranger in My House." If you're an R&B person you'll remember this one!
So I'm really excited to showcase these tomorrow during vocal class. I've been practicing "Lonely" but it's been difficult for me to get Minzy's parts because she sings them so fast. I can speak Korean at a glacial pace but anything faster than that, I get flustered. So please wish me luck! And the dance place is so cool also! It's called Def Dance Studio (they do vocal and recordings.) I found out their are famous on Youtube for doing covers of Kpop dances. YG, JYP, JTUNE and a lot of other major labels actually do auditions there so many young people are actually there training to be Kpop idols. It's so cool! You can check out a video of them above.

Freelance Gigs
Magazine Styling
So I've been doing some pretty awesome side stuff. I just finished styling my second Magazine cover spread for Korean English Language lifestyle magazine Seoul Selection. If you recall I styled their March 2013 issue and this time was for June. It was on the 63rd floor of the famous 63 Building in Seoul in a restaurant called Walking on the Cloud. Because you're literally above the clouds! You could see all of Seoul with the most amazing view ever! IT was so surreal. Read more about the experience and see the photos in the upcoming post. 😀
Radio
Also I just got approached about hosting my own online Kpop radio talk show for an up and coming online radio website called Aewen Radio. I will get to do my own segment talking about my favorite things in Kpop and play the music I chose. I'm SO excited because you all know how much I love to talk! And then make me talk about KPop and you've got me! When everything's written in stone I will give you all the details! Please wish me luck!
Film
So when someone says "I know somebody, that knows somebody, that knows somebody," they mean it. I met guy at a teachers get together my old recruiter held at Yeouido Park a while back. I actually hadn't said anything to him nor really anyone else at the place since I had arrived really late. My cousin had just came down to Korea to visit so we were busy that day. As we left, the guy and his friend happen to get on the same train we were on and so we started to chat. He happened to be in film and interested in other opportunities in Seoul so we became friends. He then referred me to a freelance filmmaker in Korea who needed an extra is his movie that had martial arts skills. (Remember I got my black belt it Taekwondo!) That lead to the director creating a part in his movie for me! I filmed a little bit but the main taping fell on the day I was doing the magazine cover so I wasn't able to do it. Since that time we kept in contact and a few months ago he asked me do the wardrobe planning and makeup for a commercial contest for Colgate he was doing. (Whew. So much right?)
So as you can see I've been trying to keep busy. 😀 You can view the commercial below.
The directors name is Will Forester. You can check out more of his stuff along with his upcoming movie IP5 here.
Hey I know you!
Another random but awesome thing that's been happening is people have been noticing me from my blog and YouTube videos. It's happened 3 times in the last 2 weeks. I had went to a university Festival at the friends school some Kpop artists were performing at. After it was over I left to go home. On the way back my friend messaged me and saed a foreign student came up to her and said "Hey you were hanging out with the Pink Fashion Ninja." Wow ahaha I was so shocked! I then went to an African Musical with a friend and ran into some friends and a girl came to me and said "Hey don't you have a blog called the Pink Ninja?" I was like yeah girl! 😀 The 3rd time was when I was crossing the street after leaving the Platoon Kunsthalle's Night Flea Market last weekend. Two foreigners were walking towards crossing the street when suddenly a girl pointed and shouted "Hey I know you! Aren't you the Pink Fashion something?" Lol. I smiled. laughed and said yes that's me. It was so hilarious because we were literally in the middle of the street in Gangnam when this happened. 😀 You just never know!
Last 3 Months
Yes, I'm down to my last 3 months of my teaching contract. Time has just ran by! I've been living in Korea almost 2 years! SO crazy. I have no clue what's next. Of course I would love to stay in Korea but who knows what the future holds. My aspirations are huge so I just have to wait and see what transpires. I'm not renewing my contract (there are many reasons why) but really I'm ready for something new, the next steps in my life. It was definitely interesting and had its ups and downs but I'm happy I did it. Living in another country opens your mind and soul and makes you figure out exactly who you are. And Korea definitely showed me that.
Events
So you all know I stay extra busy so a lot of times I don't get a chance to share all the places I've gone. So here I will run through some of awesome concerts and plays I've seen lately.
Umoja


Umoja is an popular African Musicial that's toured Korea many times. My friend Anneka and I had a BALL. A funny thing happened though. We got to the venue a few minutes late (along with a large group of other people) so we had to wait outside in the waiting area for a bit. When we asked how long it would take til we could get to our seats the stewardess said "Until intermission. We would have to stand in the back and wait." Everyone was like "hell naw ya'll tripping." So when it got time to go in the lady led us to the back wall in with her light on the ground so we could see but my friend ignored her and kept walking down the steps. The lady ran to her and said "Miss please follow my light" but friend still kept walking to our seats ignoring her. Finally the lady was just like okay and let us sit. Swear I almost DIED laughing. A few minutes later I saw everyone else going to their seats so they must have told them to just go ahead since my friend darted to her seat. Oh…the good times.



The fan oceans.
Dream Concert
Finally got to go this thing! So many artist to see! I went there only to see VIXX and Shinee. EXO was pretty awesome too. The tickets were a bit expensive though (in my opinion.) While there my friend Briana and I were interviewed for this survey about Kpop. The man asked us how we got into it, who was the biggest star or most important in Korea, who we were there to see and what the best souvenir to buy in Korea. I answered Rain, Rain, VIXX, and Seaweed. Lol.
Haha and Skull making it rain Reggae.




Chung Ang University Festival
As stated above, I went to my friend Briana's school festival. Apparently all Korea university's have these huge (drink fest) festivals where Kpop artist come and perform (it's usually free) and you stay up all night partying and drinking. Fiestar, APink, Secret and Haha and Skull performed.

Tim Burton Exhibit
The only Asia stop for this exhibit! It was nostalgic seeing everything. I'm a die-heart Edward Scissorhands fan. As a child I was SO mesmerized by that movie. And Nightmare Before Christmas. What a classic!
Trick Eye Museum
Finally was able to go to the Trick Eye Museum. That place is so fun! Also check out the photo-shopped picture my friend made ->….How you doin Tae Tae?
Well I think that's it guys! Maybe this is why I don't write about my life anymore because I end up typing too much! Also I tend to write like I speak so sorry if the sentences sound giddy and random. Naturally when I type it comes out how I think it. With my other posts it takes me time to figure out how I want to word everything so that it's professional and not just me ranting. 😀
Anywho until next time…..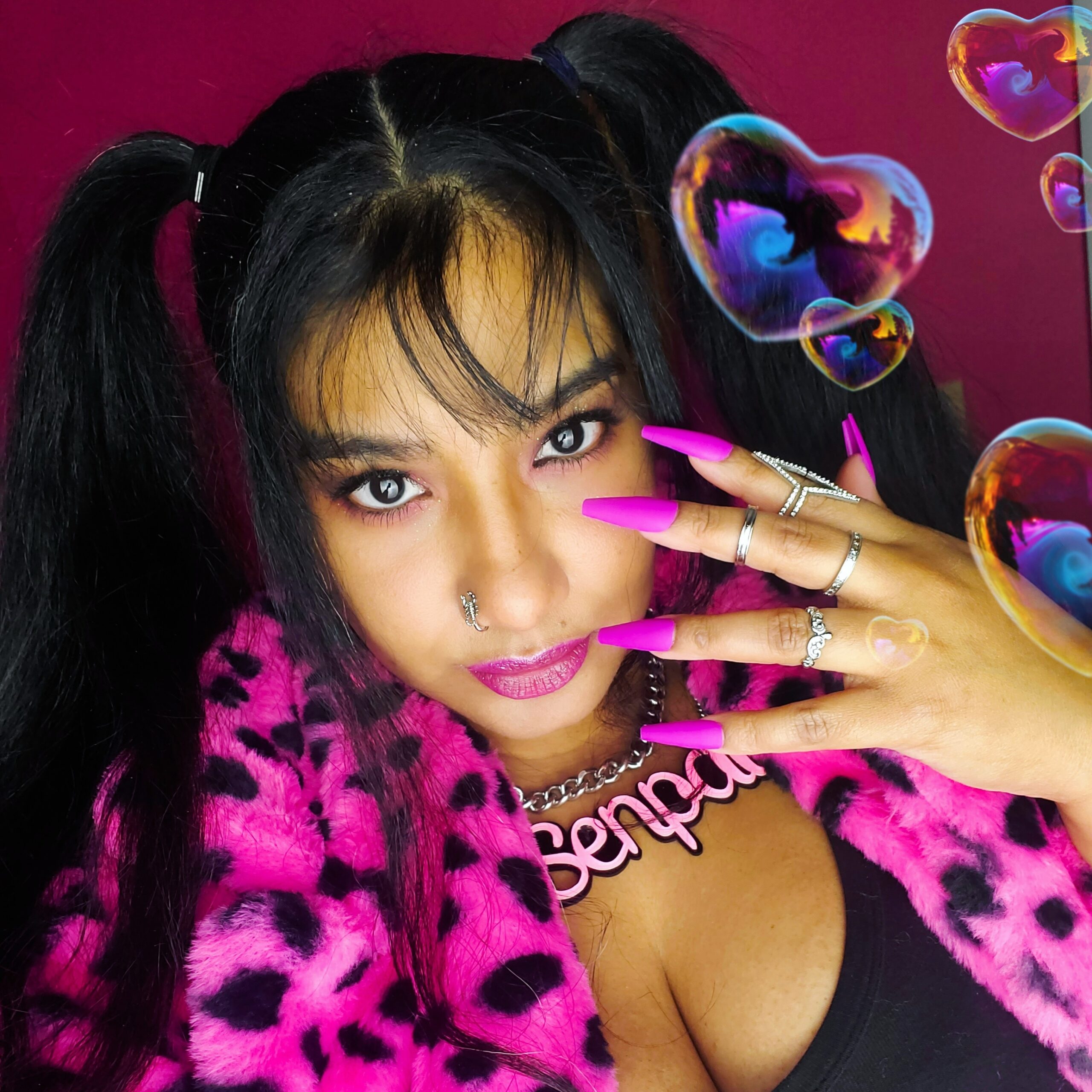 April Jay is a style and travel content creator who loves sewing, Buffy The Vampire Slayer and rocking out to One OK Rock.
Follow her on Twitter