Hello everyone!
I recently did an interview for
TravelingNatural.com
. The wonderful bloggers name is Tamara and she's lived in Korea and traveled to numerous places all over the world. A few weeks ago she contacted me to be apart of her "
Women Who Inspire
" series. Since we're far from each other it was a virtual interview but nonetheless I was ecstatic to be a part of it and learn more about TN.com.
Below is the interview and you can also
click here
to view the post on her blog. Definitely stop by and comment and subscribe to her blog as she chronicles the amazing adventures Traveling while Natural. 🙂
Follow TravelingNatural.com on Twitter
_______________________________
With Korean pop sensation PSY's "Gangnam style" still tearing up the air waves across the globe

months

after its release, one can't help but wonder… what next from the "Hallyu" phenomenon will stir up a world wide trend!
I'd like to think its the fashion. Personally I am not a fan of straight Korean fashion (I guess you'd have to live there to truly know what I mean). But I love when fashionistas fuse American or European chic with Korean style.
One blogger/vlogger (who is also a fashion designer) in particular does it so poetically, that I am surprised she has not been scooped up by the best of the best in the Asian fashion houses yet. I give it another year or two til her name and inspiration is all over the media 😉
Many of you already know Ms. April Jackson from YouTube channel recounting hilarious stories about her life Korea.
But if you don't you can also check out her blog under the same moniker(Pink Fashion Ninja) here.
Please introduce yourself.
Well I

'

m a gal from Kansas City who miraculously ended up in Korea! I

'

ve loved world cultures since I was a child. Egypt and Asia were the two places I had always dreamed of going. I

'

m a Scorpio (Zodiac) and Earth Dragon (Chinese year) so I think that explains me pretty much in a nutshell! I go after my aspirations and dust my shoulders off and rebound from my defaults and mistakes, all while wearing spiked heels and a pink tulle skirt. 😉
What do you love about living and teaching in South Korea?
I enjoy learning and experiencing another culture. Things can be so different at times and it has equipped me to better understand and deal with various people and cultures. My students at my new school are amazing. They

'

re so inquisitive and fun. I enjoy being around them everyday and seeing their smiles. Though teaching isn

'

t my passion, I'm grateful to have really nice students. I also like how I

'

m giving back to others by providing ESL teaching. I

'

m able to share and help others who want to advance in the language.
Would you ever work/teach in Japan?
Tokyo, Japan
Ah! I visited Japan in August for vacation and came to the conclusion, No. Why because I

'

d spend so much money shopping that I wouldn

'

t have money for food. Lol. I was actually moving to Japan before I decided to come to Korea but my plans fell because the Tsunami had hit. My mom was going bonkers and insisted I

'

d be a fool to go over there at that time, so I switched my plans over to Korea since I liked the culture. As long as I was in Asia I knew I

'

d be happy. I also wouldn't want to teach there because a lot of times the teachers aren't under contracts, you have to work at multiple schools, and your not really guaranteed hours. Also they don

'

t pay for your rent and its extremely expensive as we all know. So if I were to live there it would have to be me doing fashion as a job.
How would you define your style?
Wow. I

'

d have to say my blog title would explain it to some degree, Pink Fashion Ninja. I was in branding class in college one day and the instructor asked us to describe ourselves to make a brand. A friend of mine shouted out

PFN

and it stuck with me from there. Pink would describe me as being very colorful, fun and unpredictable. Fashion is pretty self explanatory but I feel that style runs through my veins.
My grandmother was 7 years old when she started making clothes for her entire family and her style genes and knowledge passed down to my mother and I (it seemed to skip my other family members though. 😉 )
Because of my grandmother I know that fashion isn

'

t supposed to be vein. It

'

s to express yourself and sometimes hide/suppress the pain your dealing with.
She went through A LOT in her life that no words can describe but EVERYDAY she was dressed to the T, every Sunday the hat was crisp, and her kids were well dress. No one would ever know the pain she had to deal with at home. Even if some did they were flabbergasted at how everyday she'd manage to look like a million bucks. I believe fashion can show your strength and that no matter what you're dealing with to always take care of yourself. Then the Ninja part is simply because I love Asian culture more specific butt kicking movies 😉 And when kicking butt we must be sexy right? Lol.

Name 2 male Kpop stars or boy bands that you would love to dress. What about 2 female Kpop stars or girl bands?
Rain:
First which most would expect from me would be Rain

비

. NOT because I want to see him naked..(maybe) but that I would love to be the one to implement his new refreshed image when ends his military duty. During his later years he

'

s been in suits and very well polished which I love but I think a good transition would be a boho, monochromatic laidback but still put together type of look. The kind of

"

I don

'

t care

"

look. To visualize it think of Japanese guitar god Miyavi

'

s new look. After a wife and two kids he changed from visual kei and crazy colors to a monochromatic laid back style. I feel Jung Jihoon would look GOOD in a loose fitting white shirt and harem pants with black boots. Whew!
BOB4:
They

'

re a brand new Kpop band that

'

s out. Very FT Island/CN Blueish but seem to have their own flair. I first experienced them at Jay Park

'

s New Breed concert in Seoul with them doing a rendition of 2NE1

'

s "I love you." I feel they

'

re still trying to find a look for themselves, especially the lead singer. I

'

d like to see them in really geeked out different patterned high watered suits. I

'

d throw a top hat on the leader. I

'

d give the guitarist colored drum sticks to match his outfits.
2NE1:
Just because they

'

re so awesome. For a video or performance I

'

d dress them really girly and feminine. Flowy and form fitting dresses with gold jewelry (to contrast with their fierce edgy style that I LOVE). I

'

d put Minzy in a cute but sporty dress showing her legs. Since she

'

s a dance machine I

'

d add some short lace leggings. Minzy

'

s a really attractive and sexy woman but since in Korean society she

'

s still seen as a teen and that she

'

s not the

"

ideal

"

look people don't' really see her. She

'

s gorgeous, fierce and sexy and I can

'

t wait til she

'

s of age so she can show it!
Park Min Young:
The female lead in City Hunter and Sungkyunkwan Scandal. In my opinion she

'

s the most gorgeous actress in Asia. She

'

s gentle, sweet and cute as a button. I

'

d like to dress her with that image but also throw in some hot red lipstick, smokey eyes with a Valentino gown. Give her a daring look. I

'

d even like to see her with shorter hair since her face is so petite and small. Kinda choppy to contrast with her sweet persona.
Where is your favorite place to shop in Korea?
Various places really. I'm visiting Sinsa-dong this week because I've read how different and cool their shops are. And also Kpop loving brand Joyrich has a shop there. I found out about an open fashion market open once a month in Gangnam I will check out this weekend. Places I already love would be Hongdae. My favorite shoe store ShoeSone is there and the clothes in Hongdae are very artsy. I really love Gangnam Station because you can buy clothes for only 10,000won ($8USD) because they're always having sales. Subway stations in Seoul have HUGE underground shopping areas and a lot of times department stores are connected with them too. Probably Dongdaemun is my absolute favorite place in Korea because it's geared more toward creating and styling clothing. They sell absolutely everything you would need and ever want to make something. Fabric, feathers, buttons, appliques rhinestones, you name it. I get rhinestones and studs there for face masks I make and will start selling. It's a fashionistas oasis.
How would you compare Korean fashion to the fashion you saw in Japan?
There really is a huge difference. Korea's style is more on a neutral palate with flowy fabrics. The women usually wear suit jackets with short skirts and heels. Or you'll see sport dresses with thick socks and Adidas or Nike running shoes. A lot more laid back so there really is a Seoul Style and a Gangnam style. It's more like a dress code. It's definitely cute and stylish but with that creativity can lack drastically. There are definitely exceptions to the rule, which I've seen quite a few times. Those people are the ones I think are the most fashionable. Pink or blue hair with a spiked jacked on. Men definitely stick to skinny legged pants or jeans, button ups and man bags. With Japan even though Tokyo is known for its fashion, it's not just one standard fashion style. There are SO many varieties of style to be a part of. And when you choose your group it is literally like a community. They have their own areas, fashion mags and famous models that represent their look for example visual kei, Harajuku, Lolita, Gothic Lolita, Gyaru. The fashion is a lot more free and inhibited. It mostly has to do with how accepting the general public is about it.
Where do you see your brand in the next 5 years?

In 5 years I want my brand to be constantly moving and growing. I know I want to MC and host fashion and music related things. So within that 5 years time I hope to have transitioned into that. I want to establish an accessory line and continue blogging and vlogging in Asia. Continuing expressing myself, promoting Asian fashion and music, and giving insight into life abroad is my goal for a while. I have such supportive people who follow my blog and vids that I want to continue doing for them and giving inspiration to people who want to travel abroad. The sky is the limit!
Seoul
fashion week is swiftly approaching. Will you be attending any events? Whose show would you love to get a ticket for?
Caruso SFW 2013 (Oct 22nd)
I'm so excited to be going again but one of the obstacles is figuring out what's going on. I feel with Korea rising as a country in the world spotlight, Seoul Fashion Week creators should have more language options and information for those who are non-Korean that want to experience and support the Korean fashion movement. I spend hours on end translating and googling to figure out where and when things are.
When it comes to designers I plan to attend the entire week but I think I'll miss a day due to a 2 day field trip I have to go with my school on. Eh! I want to attend Vandalist by Vandal, Yoni P & Steve J, D.Gnak. I really wish the brand Joyrich would show there. Oh golly I'd be happy 😉
What advice would you give to young fashionistas that want to make a name overseas?
Advice I'd give is to first and foremost go after your dreams. If you want to be in Asia then prepare yourself for the big move. #1 COME WITH A GOAL. In life you can't always plan how things will work out but if you know the goal you want to reach and achieve it will be a major help! At times living overseas you will feel alone, become overwhelmed quickly and easily be distracted from the things you want to achieve. So before you come save money, practice the language and find what connections you might have in Asia. When you get here, stay on that rode, give yourself monthly goals to make connections, network, and or attend as many events as you can. Take every opportunity around you no matter how afraid you are. Also pray about things and ask God to lead your footsteps.
You have an opportunity to meet Big Bang and style them for a photo shoot. What are YOU wearing to the meeting?
Woah! Trina shake me up! Wow, if I were going to a meeting to discuss styling BB. What would I wear? I'd wear a white cotton/polyester capped sleeve peplum top with a hot pink above the knee bandage skirt. I'd have my hair slicked in a big bun on top of my head with huge gold chandelier earrings. I'd add a huge gold ball ring and a floral charm bracelet on the other hand. To top it off I'd rock sky high black patent leather pumps with an over sized royal blue bag. First thing I pictured myself in after reading the question!
Many young teachers relocating to Korea know about the Canadian couple behind

"

Eat Your Kimchi

"

Simon and Martina. How would you style them for a fan meet and greet in Seoul?
Oh I love them so much. I've met them twice and the first time was at their very first fan meet they had ever done. Girls were only asking them about Kpop stuff but when I got the turn I asked how they transitioned to blog/vlogging full time from being teachers. I knew what they were doing was something I wanted to do one day so to hear it from them in person was inspiring. It was great to hear their story and they were actually the ones who told me to start vlogging. Simon even visited my blog and commented! They are really cool people.
Hmm…I'd probably choose outfits that would intertwine with the style the usually wear.

Martina

likes 50's style dresses so I think a form fitting white dress with polka dotted cherries would look great on her. The 50's style shape would give her the look she loves, the cherries would represent her fun and colorful personality and the form fitting part would be a new look for her that's meshed with the other elements. A tiny red belt around her waist and cherry earrings would accessories it. Black flats would top it off.
For

Simon

, he like to have fun with the "nerdy" look, (framed glasses suspenders and button ups.) I would style him in a black button up with a grey graphic t that has a picture of a woman from the 50's on it (maybe a pinup girl or 50's family picture.) For bottoms, he'd have a pair of black jeans with grayish shoes. To finish it off a pair of red glasses and an EYK key chain hanging from the front jean pocket. They would compliment each other nicely!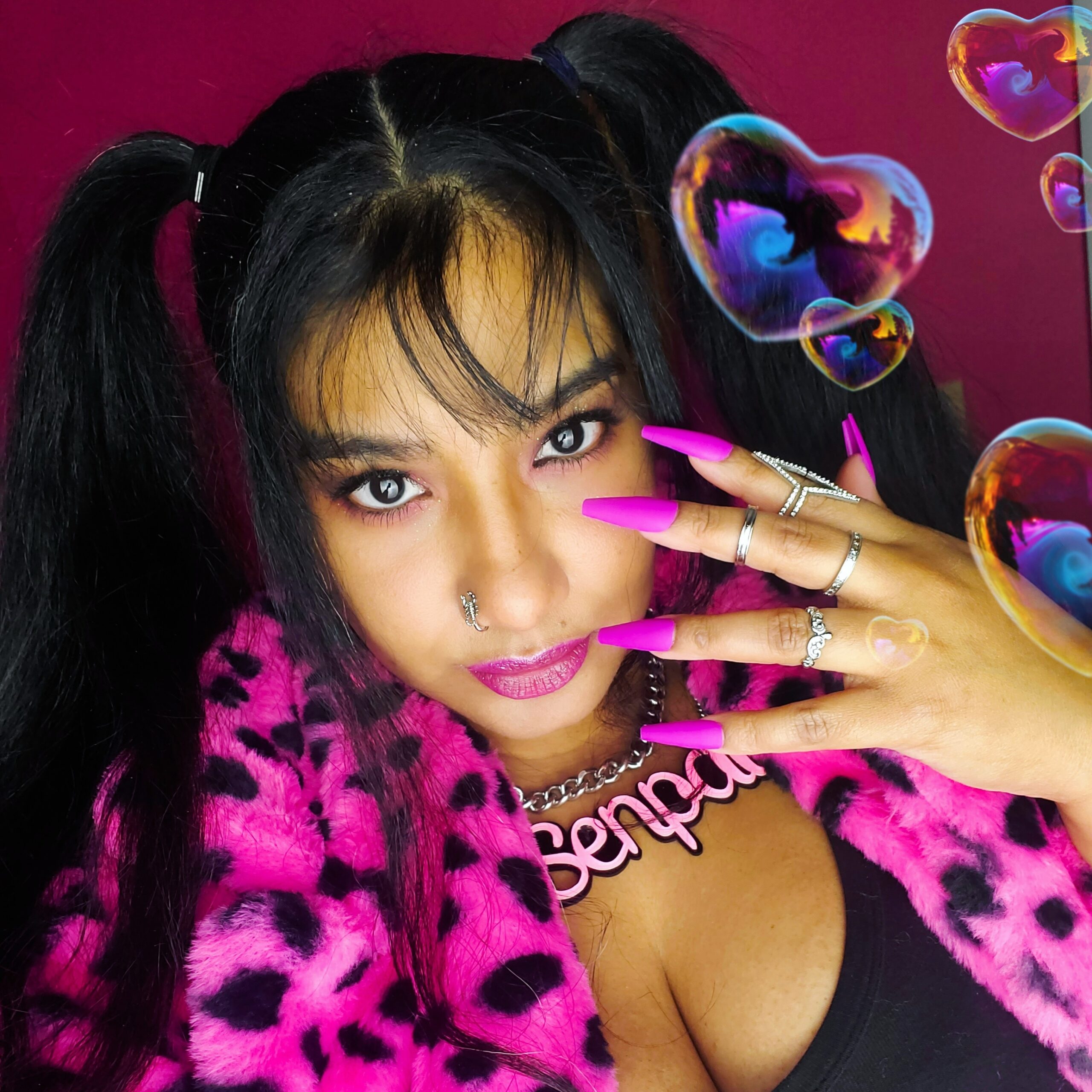 April Jay is a style and travel content creator who loves sewing, Buffy The Vampire Slayer and rocking out to One OK Rock.
Follow her on Twitter