I'm so excited to finally share this with everyone!
I've always wanted to design concert merch for one of my favorite artists either casually or professionally. As of now it's not "official" but I'm proud of how it came out and I think it reps the Miyavi brand well.
For those who don't know…Hello, my name is April Jay and I'm a mega Miyavi fan. 😀 Sounds like I'm in an AA class but maybe more MFA (Miyavi Fans Anonymous. Lol.) Now if you haven't heard, Miyavi is returning with a new album titled "Imaginary" along with a new tour!!! I'm so glad tours are back. I've missed them so much.
He'll be making stops all over the states so make sure to get your tickets here!
Coming up with the merchandise I wanted to make came to me quite easily. I sat down and brainstormed what could represent the legacy of Miyavi. The first few items I jotted down were of course face masks because 1. I make them for a living and 2. We still have to wear them while out and about. After that I wanted to add pieces that I could DIY and create without having to purchase much supplies (because we're trying to style on a budget right? Lol) I was also thinking about if it were official merchandise the manufacturing cost should be reasonable but not take away the quality of the product. Oh look…there goes my fashion classes peaking through after a decade. Lol.
In total my "collection" totaled 6 with 2 handmade items, 3 diy'ed items and 1 gifted Miyavi nail set. 😀
Loved this post? Never miss out on another by following here.
– 2 Miyavi Face Masks
Like stated above I already hand make face masks so this was the easiest out of all the items. I added chains, studs and Miyavi's name in English and Japanese.
– 1 What's My Name patch pin
Now this was the funnest to make! I wanted to create something that represented past Miyavi so I felt the 'Hello, My Name Is' was similar to his hit song What's My Name. Nostalgia right?
It was my first time making a patch but I just did some math configuring in my head like that math lady meme and went to work! I figured I needed some strong interfacing, fabric and a print off and basically it would be done.
Materials
1 Hello, My Name Is print off – download here
iron-on transfer paper for black clothes
1 square piece of fabric
1 square piece of thick/strong interfacing
1 flat head clothes pin
scissors
iron
glue gun
printer
Instructions:
1. Print off download, cut out and set aside.
2. Grab square piece of interfacing and place on top of square piece of fabric. Run iron over on high heat for a few seconds. Wait until its cooled off before picking it up.
3. Take print out and remove sticker backing from paper and place on top of fabric side. Add a wax sheet of paper (comes with paper or can use some from your kitchen) on top of the print out and iron over quickly but gently. Make sure it has stuck well and cooled off.
4. Next cut out fabric around print out to perfectly fit.
5. Heat up glue gun and grab the flat head pin. Add glue to flat head end and place in the middle of the patch on the back side. Let dry.
6. Now you're done! Add to any jacket, hat or accessory!
– 1 FIREBIRD Jacket
Now before I start, yes that's a crane. :D. I already had added it to the jacket a few years ago and honestly couldn't find a large decent quality phoenix patch so the crane did a stand in. It is what it is. This was the most time consuming to make but was fun. I'd like to actually do it over and change it a bit but I believe this first one came out decent.
I purchased the jacket at Ross some years ago. It already had the weaved fabric on the back but I added the crane after regretting buying the jacket. Lol. I ended up hating it and throwing it in a DIY pile that I knew I'd get to before I was 80. And lo and behold 50 years before I was able to DIY it. The letters I printed off the webs after finding a font and size I was content with. I then cut the letters out, pinned them to black fabric and cut them out. After spacing them correctly on the jacket I sewed them on. Lastly to add some roughness I bleached the jacket and bam finished!
I chose FIREBIRD for the lettering because that was the album he had out when I finally got to see and meet him for the first time. So I have a real attachment to the Firebird album: it's my favorite album to date.
1 Logo Under the Same Sky Skirt
This skirt was another item that was in my DIY pile. Honestly everyone should make a DIY pile. Instead of giving the item away I place it to the side to see if I can restyle it to fit my current style. It helps repurpose your clothes! You also might be asking "why throw a cute black skater skirt in the don't wear pile?" Reason: I had gained weight and couldn't fit it well anymore. *Insert crying emoji. But thankfully my lifestyle changed and I've started a cleaner eating and workout lifestyle that has now allowed me to fit in the skirt again! Hallelujah.
For this design I wanted to do Miyavi typography in different languages since Miyavi and his fans speak so many languages. We're all 'Under the Same Sky!' Fortunately writing out the words with the fabric paint was too difficult. I made only a few mistakes so it actually came out better than I expected because I'm not a good drawer. You would never want me to try and draw a horse. Lol.
1 Need for Speed Biker Short
I wanted to add one trendy, kinda sexy item to the mix so what better represents that than a pair of biker shorts? These were just some summer ones I had that fit great. I printed out a Miyavi logo from my t-shirt paper and viola. Ideally it would be made with a matching crop top. I might end up making one for it soon.
+ handmade Miyavi nails that were gifted to me <3
Last but not least the nails! My friend handmade these for me as a going away gift. I literally almost screamed when she showed me. She goes by Maj Nails currently she's not taking orders but when she starts back up I will definitely share her information.
And that's it! Creating these items was so fun and I hope to one day be able to make them officially! If you like the merchandise tag Miyavi or Miyavi staff on Twitter and let them know!
What kind of merchandise would you like to see?
Let me know in the comments!
Loved this post? Never miss out on another by following here.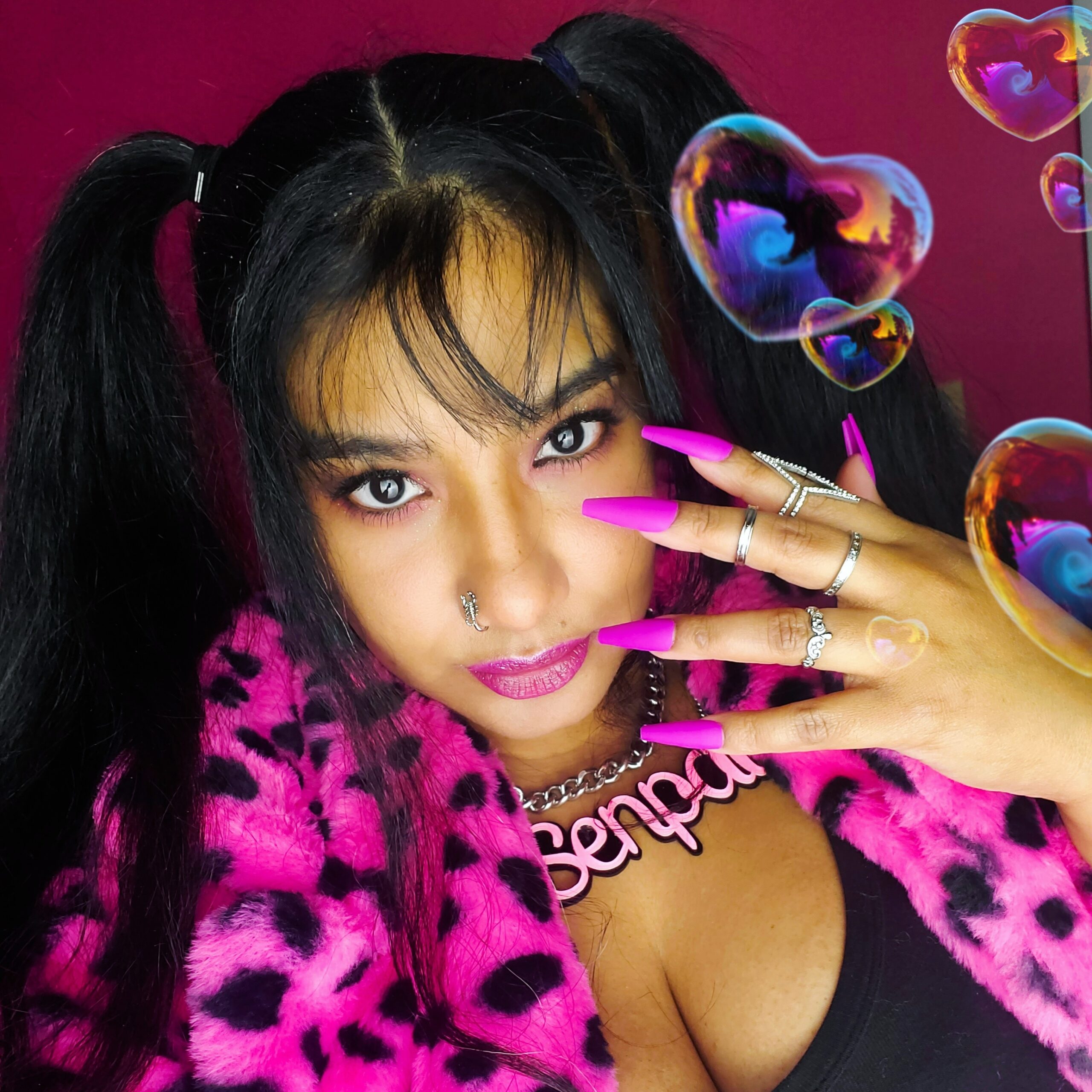 April Jay is a style and travel content creator who loves sewing, Buffy The Vampire Slayer and rocking out to One OK Rock.
Follow her on Twitter