The vibrant best friend duo GDYB better known as G Dragon and Taeyang from Big Bang, pose for their first duet photo shoot. Gracing 14 spectacular pages, the men along with their long time stylist Ji Eun, create nothing less than daring and dramatic for their shoot. This Vogue issue also commemorated the 200th issue of Vogue Korea which included two additional magazines with purchase.
Check out the behind the scenes footage!
As soon as I heard they were going to be in the issue, I darted to the nearest book store, ripped the package open and fan girled over the photos before I could even exit the store. This first look with them together I really loved. GD's flowing red and green hair remind me of the Italian flag while Taeyang's beastly nose piercings tickled my fancy. And HOW amazing are Tae's shoes? Ga!.
White print black sleeveless t-shirt – Rikki Kasso at Candy
Lobster claw shaped choker – O's Accessories at Candy
Black stud shaped silver necklace – EK Thongprasert at Bbanzzac
Tassel necklace – Saint Laurent Paris
Silver chain ankle bracelet – Chrome Hearts
Oversized white t-shirt – Rikki Kasso
Crystal necklace and earrings – Swarovski
Star shaped earrings – Pamela Love at Corso Como
Black chain ankle bracelet – Chrome Hearts
Fine gold ring – Balenciaga
Saint Laurent Paris silver ring
Decorative piercing – Givenchy by Riccarto Tisci
Leather pants – Artist own personal collection
So now we know why Taeyang had his hair in these braids at the airport! So actually there was no reason for that Seoulbeats article harassing Tae Tae about his hair! Because it wasn't even a permanent style. Ha.
태양
Pink shirt layered with see through shirt, both – Givenchy by Riccardo Tisci
White rubber stud shaped necklace – E.K Thongprasert Bbanzzac
Thick chain necklace – Ambush
지드대곤
White long coat – Juun. J
White print t-shirt – Rick Owens
Black shorts- Comme des Garcons Ganryu
Ivory decorative necklace – Dannigo by Bbanzzac
Buffalo bone necklace and earrings – O's Accessories at Candy
태양
Stiff oversized white shirt – Junji
Black training pants – Comme des Gargons Ganryu
Red colored necklace – Dannijo
Crystal earring piercing – Givenchy by Piccarto Tisci
Sunglasses and sneakers – Artist own personal collection
지드래곤
Red leather jacket with lining and chain back
Pearl necklaces, all – Chanel
Pink beads in cup – Feverish (not shown in scan)
Blue and H shaped bangles – Hermes (Not shown in scan)
Givenchy parody beenie – Stylist Made
Pants and sneakers – Artist own collection
태양
Vintage silver print white t-shirt – Maison Martin Margiela
Decorative necklaces and bracelets – Chanel
Maybe this silver Chanel bubble necklace and bracelet set was popular this week because another model in this same issue sported the jewelry multiple times.
White top – Givenchy by Riccardo Tisci
Daisy print Mink coat – Prada
Leather patchwork pants – Fendi
Funky eye shaped necklace – Butler & Wilson
Turquoise and colored bangle – Dannijo at Bbanzzac
Crocodile necklace and ring – Feverish
Florescent
clip with necklace – Black Muse
Right hand ring MIK24/7 – Ambush at My Boon
Petite scarf around arm – Hermes
Leather hip sack – Jeremy Scott at Daily Projects
태양
Patchwork leather skirt – Fendi
Skull cross necklace – Butler & Wilson
Oblong metal chain necklace – Pamela Love at 10 Corso Como
Red rubber delicate cut necklace – EK Thongpasert at Courbe Noir
Black bead necklace – Feverish
Metal bracelets – Saint Laurent Paris
Ivy flower bracelets – Prada
Leather gloves – Adam Kimmel at Daily Projects
While checking out the rest of the magazine I spotted a model who was wearing the same Fendi patchwork pants as GD. Could GD possible be sharing clothes with models? Lol. He's such a small guy, so possibly!
The great thing about GD is his experience with photo shoots. He's done so many that he's become a natural at model face expressions and body movements. He can make a photo really eye catching with just a smirk. Throughout this entire shoot, he only changes his expression with minimal body movement while remaining interesting and alluring.
지드래곤
Colorful floral printed lined silk poncho – Etro
Sugar pearl bracelet – Chanel
Slender gold ring, all -Balenciaga
Jean pants and hat – Artists own private collection
(Fan girl moment) I've never seen Tae Tae as sexy as he is here in this photo (of course excluding his shirtless photos!) What makes this photo stand out: his cool and wild expression without overdoing it and his hair styled in a non-Korean texture and style, very rocker and carefree. Though he's just sitting, you can feel his power and aura. Young Beezzy has come a long way in terms of fashion. White T's, jeans and a few military jackets were his only go to styles in the past. He's seemed to open himself up a lot more experimenting with styles. Back in his Solar day's, Tae had commented that he wanted to take more risks fashion wise and it seems he finally has the chance. Nowadays BIGBANG is on a WHOLE different level. There respect and popularity have more than surpassed that of Kpop, with the world's eyes now set on them, their clothing styles must reflect their new status.
Colorful chrysanthemum printed blue color coat – Gucci
White t-shirt – Givenchy by Riccardo Tisci
Thick chain necklace and bracelets – Chrome Hearts
Plastic bowl filled with necklaces – Marni
Acid colored plastic chain necklace – Aznavour
Rarely does GD's fashion disappoint but this style is not convincing. I actually thought he had oven mittens on. Possibly the pose he's in makes it difficult to decifer what's going on style wise.
지드래곤
Navy decorative headband and dress with satin flower- Prada
Shirt tied at the waist- Saint Laurent Paris
Red plastic necklace – Marni
Cross Necklace – Eddie Borgo at 10 Corso Como
Gold Necklace – Monica Castiglioni at Bbanzzac
Colorful color block bangles, all – Hermes
White pants – Artist own private collection
Unfortunately I really hate this look on Taeyang. I feel they tried to dress him in the androgynous style that GD is known for. GD can do on androgynous great because of his small body frame and experience wearing it. Here is looks as if Young Beezzy is auditioning for the next season of Little House on the Praire or Whoopie Goldberg's character in The Color Purple. "I told Harpo not to BEAT ME!" ahaha
태양
Embossed varied pattern t-shirt – Juun J.
Black rubber necklace – EK Thongprasert at Bbanzzac
Ivory ring necklace – Prada
지드래곤
White knit top and black shirt tied at waist
Item – Christian Dada at Candy
Pointed metal wrap around necklace – Aurelie Bidermann at Courbenoir
Black stone lovely rose necklace – Prada
Gold chain necklace, bracelet and ring – Ambush
Leather pants and high top shoes – artist private collection
Throughout this shoot, in all but 1 photo, Taeyang is yelling or making a crazy face which makes me wonder if was a part of the shoot. GD being the calm one in the "Land of Sweets" while Tae is the kid that can't hold his excitement (photo shoot theme wise.) If this isn't the case, then it shows how goofy Young Beezzy's personality is. It also shows a bit how new Taeyang is to doing solo/duet photo shoots. GD has done countless spreads being the fashionisto he is, but since Taeyang has just recently broadened his fashion style, fashion photo shoots are something he'll have to warm up to and get comfortable with.
Posing with their long time stylist Ji Eun.
How are you all feeling their photo spread?
Credit: Vogue Korea
Scans: Pink Fashion Ninja
Clothing Descriptions translated and edited by Pink Fashion Ninja (credit if using)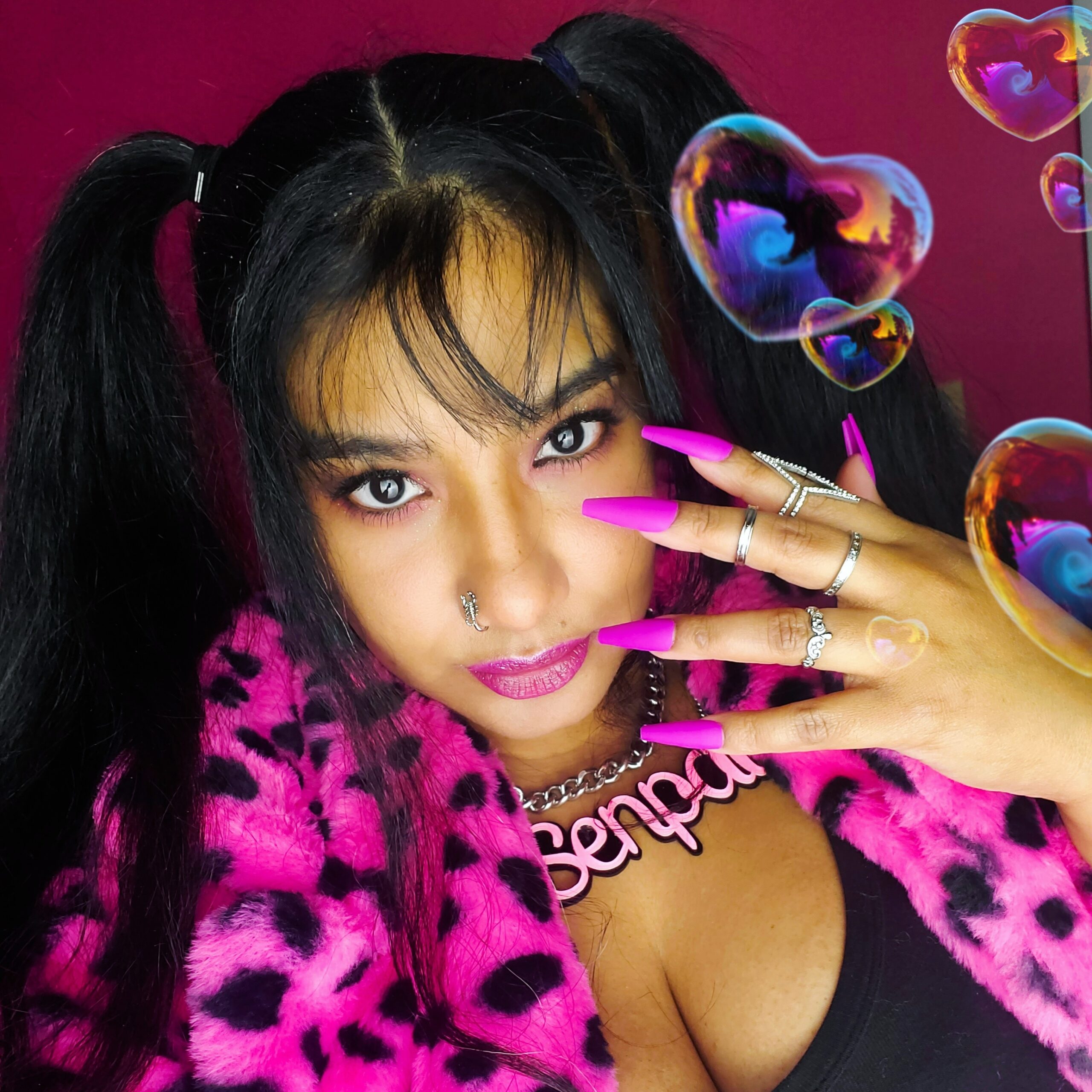 April Jay is a style and travel content creator who loves sewing, Buffy The Vampire Slayer and rocking out to One OK Rock.
Follow her on Twitter