Taeyang shut it down in San Francisco for his Music Experiment 2.0. Not only did he leave his mark on San Fran but on me! So many amazing things happened that week that my little Taeyang loving heart almost couldn't take it all!
As I stated above, many great things happened during my 3 days in San Francisco that I don't even know where to start! How about I begin with the highlights then go back to the beginning? Sound good?
Tried to spray paint my hair white but it faded away 10 minutes later! 🙁
Oh yeah! International VIPS!
I also jumped in a photo with Big Bang's band. I'm up there in the middle. 😀
Wow I've shared so much and I haven't even gave my fan account yet! So I arrived in San Francisco on Monday since the concert was that Tuesday. I wanted to have enough time to see Taeyang and also enjoy San Francisco. I hung out with a PFN follower named Mayte who showed me around San Fran. We had a great time eating Clam Chowder in a bread bowl at Fisherman's Wharf (while being barked at by audacious ducks) and laughing our heads off at the Ripley's "Believe it or Not" Museum and 7D experience.
Mayte was so awesome to hang out with. She had been following my YouTube vlogs since I started living in Korea so it was cool to speak with someone who had been apart of my journey.
Mayte and I taking photos around San Fran!
So Tuesday finally arrived and I had breakfast with the ladies of Always Taeyang and YB Mania. It was the first time everyone met face to face but because of the shared love for Taeyang there was so much to chat about. After that a few of us went to the store to make signs for the show which are shown in the first photo above. Mine came out looking like some crackhead made it but the ladies said Tae likes homemade signs. I'll take their word for it.~
We decided to all meet at 6pm to stand in line since doors opened at 8pm and the show started at 10:15pm. I showed up at around 5pm since I wanted to make sure I allotted myself time to get lost since I wasn't from San Francisco. My dumb self hopped on the trolley with only $4 when the ride was $6! Anywho when the guy realized I didn't have enough he didn't sweat it and just walked to the other end of the trolley. So I got a FREE ride! But I'll never try that again.
While waiting in line we all chatted and got pictures taken along with being interview by MTV Iggy. You can check it out below. We also stopped a guy who worked there that was around us looking for something. We asked him what he was up to and he said they were doing something with the line. As we chatted he shared where the best spot would be to stand and see Taeyang. He THEN showed us footage of Taeyang during his mic check that he recorded on his phone. We crowded around his phone all happy and next thing you know he goes "Up that's it." I then look behind me and a huge crowd was around us trying to get a glimpse of Taeyang in the video. It was nice while it lasted. :/
Soon it was time to enter! The place was quite awesome. Intel and MTV Iggy really made it an awesome experience as there was all types of cool things to do inside for Taeyang fans. I didn't have a chance to do a lot of the stuff but it looked fun! Someone even won an Intel Notebook! So cool~
As we entered I hurried over because the ladies grabbed us a spot on the side right in front of the band. It was a mini balcony about 3 feet off the ground where we could clearly see above everyone with a great and unobstructed view of the stage. From there we had a nice drink and danced to Choice 37 DJing for 2 hours before Taeyang came on.
Soon the band went to their places and "Super Star" started blasting from the speakers. And there he was….the Super Star himself!
His energy was high and I'm sure he could feel the overwhelming love in the room. The roar from the crowd was like a freight train! No one could believe he was right in front of our eyes in the flesh.
Decked in white, song after song we sang the parts we knew which was mostly only the random English parts! It was quite hilarious when Taeyang pointed the mic out for us to sing but it was pretty silent with everyone looking at each other. Hey Tae Tae, we love you, we love Kpop but we don't know all the lyrics!!! Haha. But when "Only Look At Me" came on I sang my little Hangul lyrics heart out since it's my favorite song of his. I got chu Tae Tae…I got chu. 😀
He then chat a bit and said he'd be debuting a new song that night! Beforehand we had heard it would be a song titled "Body" (ooh la la what's THAT song about Tae?) but it was later changed to a lovely song titled "1AM." He told us he wasn't sure if it'd be released because it was up to Papa YG. We all cheered that we'd fight to make the song get released!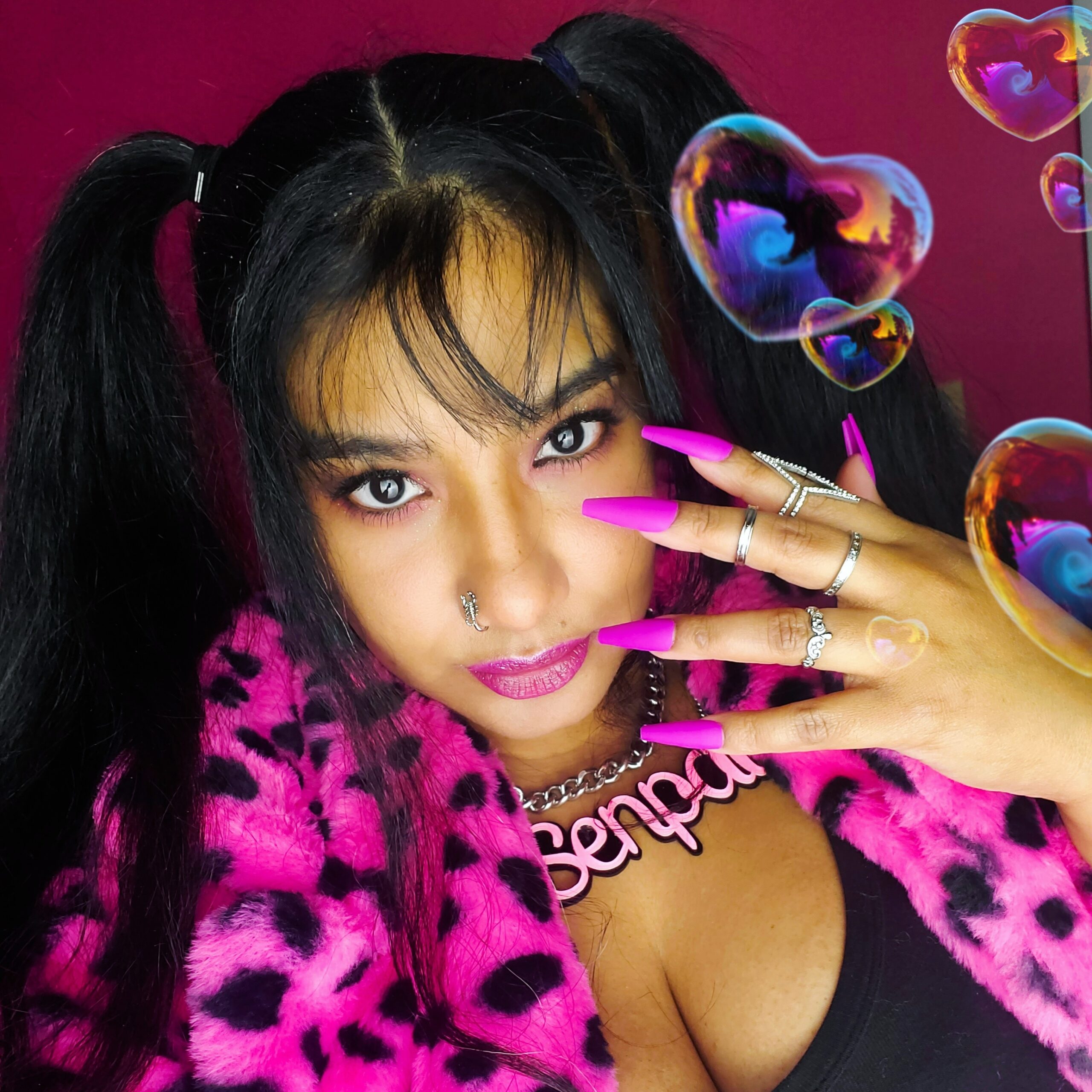 April Jay is a style and travel content creator who loves sewing, Buffy The Vampire Slayer and rocking out to One OK Rock.
Follow her on Twitter